STIHL Trimmer Buyer's Guide
Many people come in the store asking "what's the best trimmer for me?" Finding the right trimmer for your needs doesn't have to be a guessing game. Use this buyers guide to see which trimmers come with the power and features you need to get the job done.
If you still need more information after reading this guide, don't hesitate to visit our Dealership. We can answer your questions, show comparisons between models and even provide live demonstrations. We want you to be confident in your purchase, and will help you find whatever you need to do so.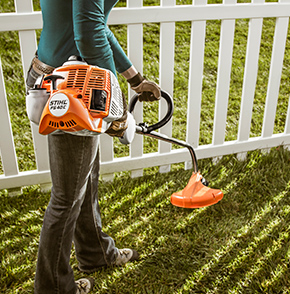 HOME USE
STIHL grass trimmers are lightweight, powerful and easy to use. Just start them up and watch as they make quick work of those hard-to-reach areas mowers leave behind. Homeowner trimmers are available in either loop handle or bike handle styles. Both options are loaded with convenient features designed to save you time and effort.
GREAT FOR:
Weekly or monthly use as needed
Smaller lots and home lawns
Light grass trimming and weed cutting, landscape management
---
PROFESSIONAL USE
STIHL trimmers for professionals feature power, fuel efficiency and lasting durability – and they're specially designed for heavy-duty tasks. They boast an exceptional power-to-weight ratio, putting every last ounce of their well-balanced construction to work. With additional features such as anti-vibration technology and increased comfort to reduce operator fatigue, these trimmers are the complete package for any landscaper.
GREAT FOR:
Heavy use (every day)
Larger lots with dense grass or brush coverage
Dense grass trimming and weed cutting, area mowing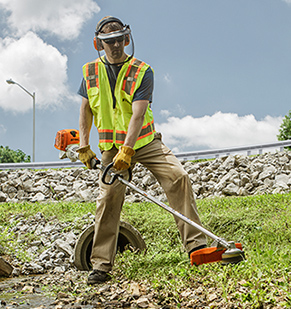 ---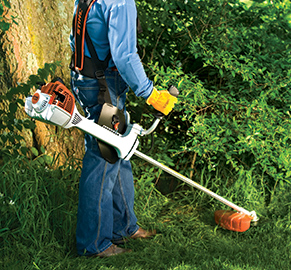 BRUSHCUTTERS & CLEARING SAWS
STIHL brushcutters and clearing saws cut through the clutter and provide a hardworking solution for your heavy-duty jobs. With a rugged professional design, these models have what it takes to help you in the field, whether you're maintaining a fenceline or out in the forest with a tough clearing job.
GREAT FOR:
Heavy use (every day)
Larger lots with dense brush coverage
Cutting saplings, clearing dense undergrowth, brush removal
---
Battery & Electric Trimmers
STIHL offers environmentally conscious trimmers, brushcutters and clearing saws for both homeowners and professionals. Choose between plug-in electric and lithium-Ion battery models to find your right shade of green.
GREAT FOR:
Any usage (monthly, weekly or daily)
Areas with noise restrictions
Light landscaping, controlled grass trimming, brush removal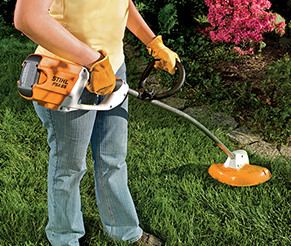 ---

TRIMMER FEATURES
When you see STIHL Trimmers with letters in the model number, they indicate specific performance features. Here is a quick guide to those letters, so you can better identify the features that better complement your needs.
E = Easy2Start™
The innovative STIHL Easy2Start™ (E) makes starting STIHL power tools easy and straightforward without requiring a lot of effort. The secret is an additional spring between the crankshaft and the starter rope rotor.
M = STIHL M-Tronic™
The STIHL M-Tronic™ engine management system electronically controls the ignition timing and fuel metering in any operating condition, factoring in altitude and fuel quality. This system provides professionals with optimum performance, whether you are just starting to work or resuming after a break.R = Loop Handle
A rounded handle mounted on the shaft for support and control.
C = Built-In Special Comfort
X = Lightweight version
New Braunfels Feed and Supply is proud to offer professional STIHL equipment. STIHL products are building in america. If you are looking for long-lasting, durable lawn care or yard care equipment, look no further. For more information regarding STIHL products click here.
Source: STIHL