With holiday season upon us, here are some thoughts about your pets and the holidays.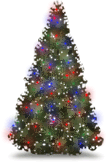 Jennifer asked "I recently purchased a puppy that is very active and into everything.  Will it hurt my puppy if he attacks and eats my Christmas tree, not only the needles but also the bark?"
Alan's Answer: Christmas time can be a very challenging time to train a new puppy.  They love to play with everything and have a high level of curiosity.  It is highly recommended to keep many holiday plants out of reach from your puppy.  Pine needles can be very harmful, possibly causing vomiting, diarrhea, lethargy, trembling and posterior weakness. You should also keep hollies, poinsettia plants and mistletoe away from your puppy.  I would recommend keeping ornaments, Christmas lights, tinsel, and chocolate away from your puppy.  This may be a good year to not put freshness chemicals in your Christmas tree stand. Not being a vet, I can only recommend you call your vet if your puppy has eaten one of these items and does not appear to be acting normal.
I would like to take this opportunity to wish all our customers a Merry Christmas and Happy New Year. I feel blessed to be able to call my customers my friends. It has been a pleasure to serve you and help you reach your goals this pass year and here at New Braunfels Feed & Supply, we look forward to working with you in 2012.